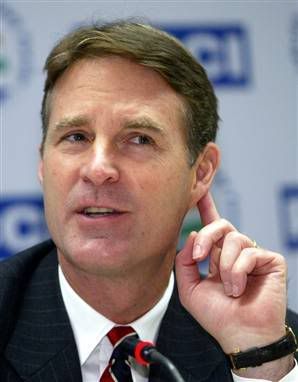 The topic below was originally posted on my blog, the
Intrepid Liberal Journal
.
Among my least favorite Democrats is Indiana Senator, Evan Bayh. Bayh wasted no time after President Obama's election to announce his formation of a
Blue Dog caucus
in the Senate.
With Republicans out of power, elites are more likely to favor Bayh and his Blue Dog friends as enablers in their ongoing crusade against wage earners, small business entrepreneurs and the poor. While liberals are expending energy on Rush Limbaugh and the insipid Republican minority, corporatist predators have shifted their focus to greasing corporate appeasers such as Evan Bayh.
Accordingly, Bayh is causing mischief with respect to the
Omnibus Appropriations Act
. For the record, Wisconsin Senator, Russ Feingold, a politician I have long admired has also opposed legislation to keep the government running in protest to the omnibus process itself. I am of course disappointed in Feingold for playing games during an economic calamity as well as increasingly disenchanted with Senator Harry Reid's hapless performance as Majority Leader.
Unlike Feingold however, Bayh is continuing a pattern of using appealing moderate language such as
"fiscal discipline"
to support a corporatist agenda. Ironically, his father, Birch Bayh was a proud and unapologetic liberal who defended the middle class when he served in the Senate. Alas, the apple has fallen far from the tree with the son.
Read More +/-