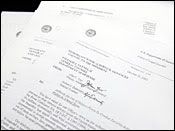 The topic below was originally posted on my blog, the
Intrepid Liberal Journal
.
Unless hermetically sealed in a dungeon, I assume readers are aware of the
"torture memos"
authored by Bush administration lawyers in 2002-2003 and
released to the public
this past week by the Justice Department. Their release followed intense debate between Attorney General Eric Holder who advocated transparency and CIA Director Leon Pannetta who argued on behalf of secrecy.
Each time I started to read one I stopped out of disgust. I finally read them all yesterday after initially avoiding it. Ultimately, as citizens we all have a duty to familiarize ourselves with this dark chapter in our history yet it took me a couple days to overcome my reluctance and read these documents. Having done so I urge everyone to do the same and not simply rely upon the punditocracy and blogosphere for interpretation.
President Obama courageously and in my view rightly, authorized their release because we must not shield shameful truths under the false pre-text of national security. The criticism of former Bush officials notwithstanding, releasing these memos is an important step in the Obama administration's efforts to rehabilitate America's image.
The cost to our national security in releasing memos with respect to banned torture techniques is outweighed by the higher consideration of restoring America's respectability with the civilized world. We can't ignore our immoral transgressions because the world hasn't and the national security argument is a false construct. Indeed, these now banned policies were ineffective at best and harmed our national security by further radicalizing the world against us.
Read More +/-